* Products recommended in the post contain affiliate links. If you purchase something through our posts, we may receive a commission at no extra charge to you. See our full disclosures here.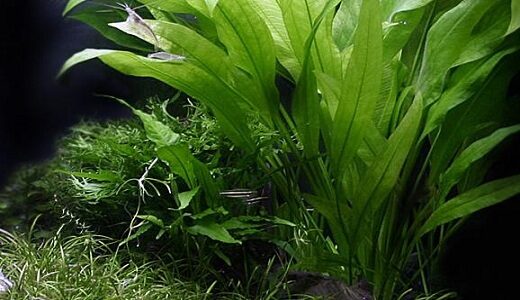 Plants are a very important part of a tropical aquarium. It is worth choosing plants carefully and taking good care of them. Water plants are not only visually attractive, they provide shelter or food for your fish and some fish use plants as a spawning nest.
Try to buy your aquarium plants from a local specialized fish supply shop. These shops specialize only in fish and fish-related supplies. Here you should find a larger selection of aquarium plants and with luck a knowledgeable and helpful shop employee. Although you might have to pay a little more for the plants than at a large pet shop.
Plants can carry disease that can infect your fish, so only buy plants that look healthy. Look out for damage to the stem or for perished leaves or roots.
Remove any damaged leaves before planting. It is better to remove a lot of leaves than allow them to decay and pollute the water.
When planting aquarium plants always take care and be extra careful with the stems, if they get crushed during the planting process they can decay and the whole plant will rot away.
Do not panic if most leaves die, turn yellow or dissolve after planting. The shock of being repotted can make plants lose their leaves, but they should grow new ones.
As a last resort if you're not having any success with live plants go plastic.